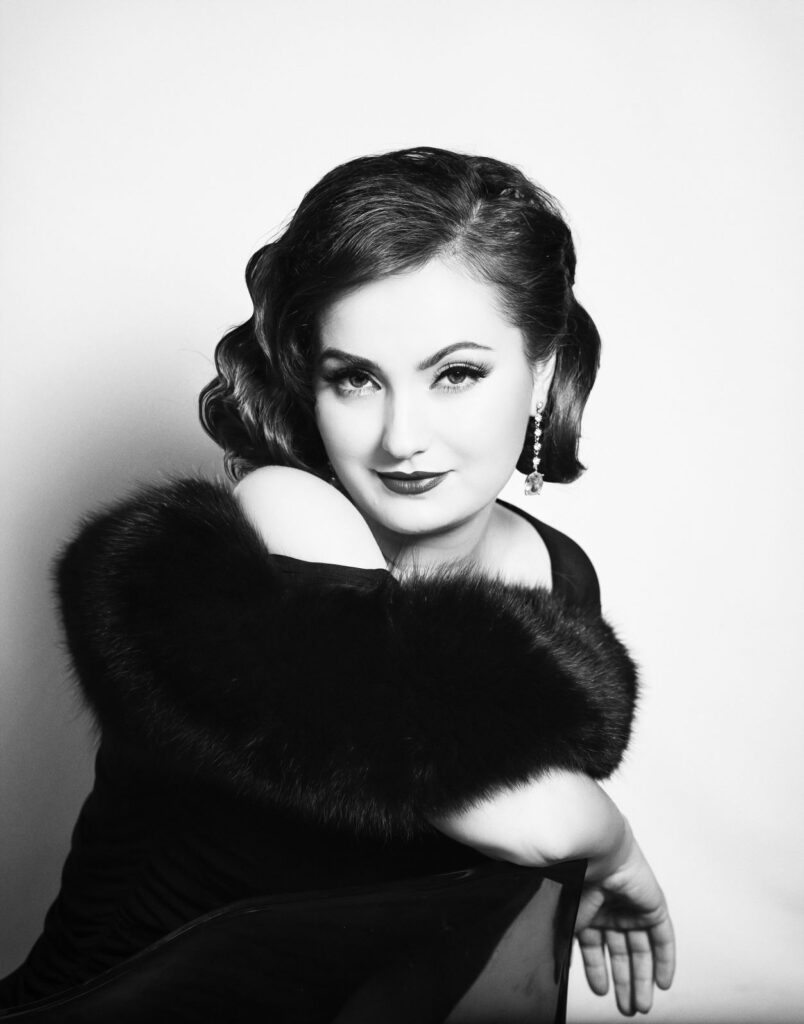 Ukrainian born soprano Anna Belaya received recognition as "soprano, who possesses an extraordinary timbre of profound musicality …a potent voice that clearly projects itself in a velvety ray of impeccable technique and deep resonance". (Isaac Galindo, EL Mexicano/Tijuana).
Ms. Belaya's recent engagement includes Rosalinda in Die Fledermaus production with Pacific Lyric Association on October 17 and 24, 2021.
Anna Belaya made her debut with Opera de Tijuana as Micaela in G. Bizet's Carmen. Subsequently, she appeared in Mexico as Giannetta in G. Donizetti's L`elisir d'amore in the co-production between Cultural Center of Tijuana CECUT and Bellas Artes in Mexico City, which was received with glowing reviews. In previous seasons, Belaya`s performance highlights include Tatiana in P.I. Tchaikovsky's Eugene Onegin with Kiev Conservatory Opera Studio, Cio-Cio-San (Cover) in Madama Butterfly with Marina del Rey Symphony in LA; Donna Anna in Mozart`s Don Giovanni, Madame Lidoine in Dialogues of Carmelites and Ciesca in Puccini`s Gianni Schicchi, with Opera Academy of California in San Francisco; Tosca in the Lead Role with Opera Lyric Association in San Diego; Donna Elvira in Don Giovanni with New York Lyric Opera.
A regular on the concert and recital stage, Anna has appeared with the San Diego Symphony under the baton of Philip Mann; Arkansas Symphony Orchestra, singing soprano solo in Mozart Requiem; Dream Orchestra of Los Angeles singing Handel`s Messiah; Opera Buffs Incorporation in LA; San Diego Grossmont Symphony Orchestra in Gorecki's Symphony #3; Narni Festival Orchestra (Italy) as soloist in Stabat Mater, Pergolesi. As a special guest, Anna was invited to sing part of Beethoven's Ode to Joy from Symphony #9 during the Celebration of the 60th Anniversary of the European Union at the City Hall of Los Angeles.
Anna Belaya is a regular performer and soloist with Los Angeles Balalaika Orchestra and Firebird Quintet. She has performed with them numerous times and to great praise. News-Ridgecrest Review stated: "Ukrainian soprano Anna Belaya took the performance over the top with her sultry Garboesque good looks and an equally beautiful set of vocals". 12/11/2015.
Ms.Belaya celebrated vocal technique and voice color has won her numerous awards, including First prize at Virginia and Susan Hawk Competition in San Diego, 2015; 3rd prize at Virginia and Susan Hawk Competition, 2013.
She was a Finalist and Audience favorite in SymphonyNet/ICadenza Competition, Burbank Philharmonic Competition in Los Angeles. Finalist and Encouragement Award Recipient at Musical Merit Foundation in San Diego. Semi-finalist in the New York Lyric Opera National Competition and Loren Zachary National Vocal Competition and Premiere Opera International Competition. In Ukraine Anna was two times the recipient of Laureate in the Ukrainian Competition-Festival Ukrainian Talents in the category Art of Acting.
Anna Belaya is also known for her philanthropic donations, organizing concerts, and providing funds for San Diego Opera and Red Cross in Mexico BC.